Heeeeellllllllooooo everyone!! It's been quite the ride lately! But thankfully, the move from FL to OH went relatively smooth and I've been
slowly
getting back into the swing of things! I knew I needed to get working on the blog again and my writing, since it keeps me a little more sane! LOL! So there's no better time than now with my most favorite holiday just around the bend!! And since this is definitely a time of new beginnings, I thought I would kick things up this week and use this super cute Tarot deck for this week's scopes, the
Halloween Tarot
! So without any further ado... here's this week's Tarotscopes!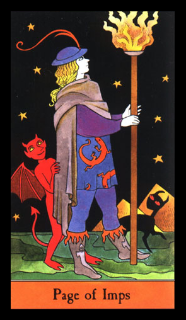 Aries (Mar 21 - April 19)- You'll find yourself with a lot of enthusiasm this week! Relationships may have you ambitious to seek some sort of transformation. You definitely have the confidence to persuade those around you and your trustworthiness will also help get the results you're looking for, just make sure you're not coming across as "my way or the highway". There could also be some news that'll bring about more stability. Emotionally you're expecting it, so don't feel you're jumping the gun with things. By the end of the week you'll really feel as though you're accomplishing exactly what you've been needing and wanting!
Well it was great to get back to work! Hope you enjoyed the Tarotscopes once again and if you have any questions, feel free to send them to me at my
facebook
or
email
, or even a comment here! Be sure to stop back soon as I'm SURE to be offering a holiday special!!
Many Blessings and have a great (and safe!!) week everyone!
Andi